3D Shape Analysis
Seminar – Summer Semester 2018
---
---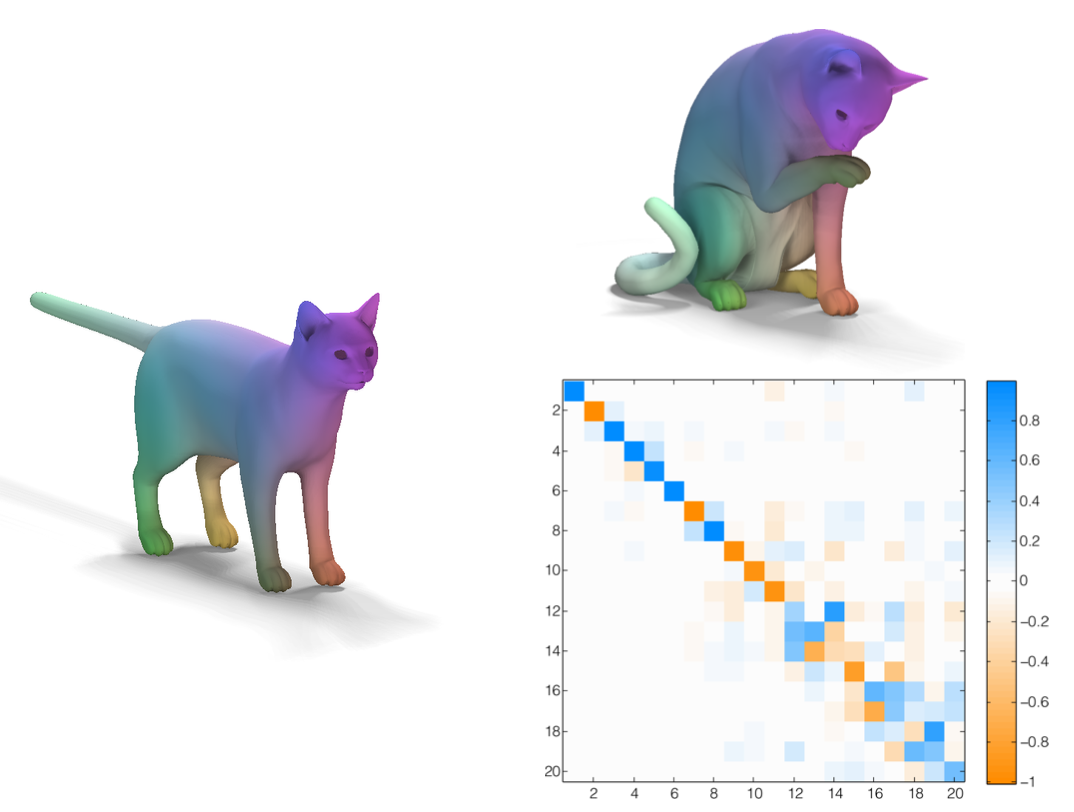 Functional Maps: A Flexible Representation of Maps Between Shapes
(Ovsjanikov et al., SIGGRAPH 2012)
---
Overview
---
The objective of shape analysis is to recognise or quantify morphological patterns or regularities of some object(s) of interest. These insights may then help in developing theories and in better understanding the object class at hand. From a computational perspective, shape analysis is based on the fields computer science and (applied) mathematics, with diverse application areas such as computer vision, image analysis, computer graphics, computational geometry, or pattern recognition.
In this course we will cover various topics that are related to shape analysis. While there are several shape representations, e.g. point-clouds, surface meshes, or volumetric representations, a common aspect is the correspondence problem. Given two (or more) shapes, the correspondence problem refers to the task of bringing parts of the shapes into some meaningful correspondence, where the particular interpretation of ''meaningful'' depends on the application.
In this seminar we will cover recent research papers as well as well-established research papers from the following problem fields:
shape deformation models,
shape registration and matching,
spectral shape analysis,
geometric deep learning, and
functional maps.
---
---
The following table lists more topics than available weeks – this is to allow some flexibility for the interests of the group to change the course structure. Once every participant has submitted their choice of topics, this list will be updated to show the presenter of each topic.
Topic and Papers
Presentation

Presenter:

Vassillen Chizhov

SIGGRAPH 2018 (conditionally accepted)

Presenter:

Param Uttarwar

Presenter:

Zeeshan Khan Suri

Presenter:

Shishir Reddy Vutukur

Presenter:

Tarun Abhishek Vishwanath Yenamandra